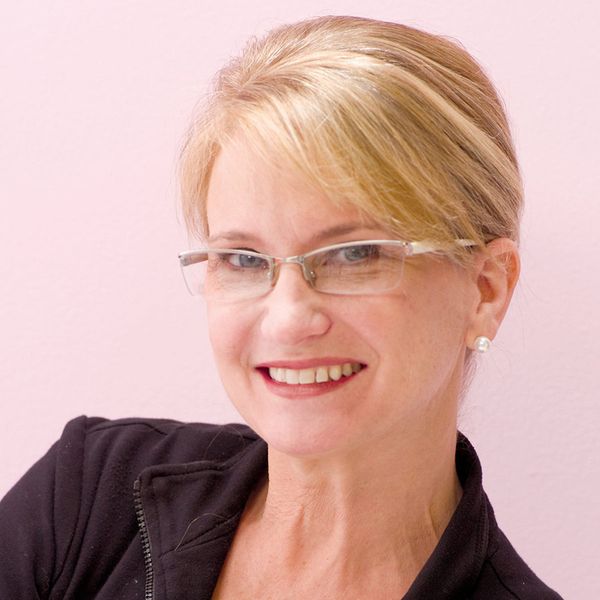 Patty Hannan, Founder
Patty Hannan is the founder of PlayWisely, a brain-based early cognitive and motor development system, recognized nationally and internationally for its ground breaking approach to Early Child Development. PlayWisely combines the latest research emanating from the fields of academia and science then views it through the lens of a performance sport. The innovative method 'turns on, tunes in' and exercises the sensory, language and learning pathways that are essential for propelling future ability. Based upon the new science of learning the programs aim is not only to teach a child, but also to train an optimally functioning agile mind.
And it all began with a gymnast in zero gravity. No, really!
The inspiration for the science behind the play evolved from Hannan's experience as an All-American collegiate gymnast and her participation in a research project conducted by NASA at the Johnson Space Center in Houston, Texas (1984-1985). The study focused on the unique human performance capabilities of the world-class gymnast. Ms. Hannan was particularly impacted by her experience in zero gravity where she became acutely aware of the profound affect gravity has on the form and function of human performance. Upon the urging of NASA scientists, Hannan learned the language of neuroscience and cognitive psychology which ultimately led her to focus on early human performance development.
In 2006, Ms. Hannan presented PlayWisely's "The Directionality Method" to an early learning forum at Oxford University in England. Ms. Hannan is now a member of the International Society of Psychophysics for her innovative work and has presented at universities in Italy, Germany, Canada, Israel, Sweden and Russia.
From 1983 to 2013, Ms. Hannan continued her involvement with the sport of gymnastics as a nationally-rated NCAA and USA Gymnastics Official.
PlayWisely was the featured business in the Bank of America Small Business Owners Report for Fall 2015.
"...Our activities are designed to mirror how the brain works so learning is familiar, efficient and most importantly FUN!..."
Which brings us to the future of purposeful PLAY.
In 1987, Hannan helped found the prestigious da Vinci School in Dallas, Texas, known for its innovative science based curriculum. In 1988, Houghton Mifflin published Hannan's first book, "Teaching Your Child Basic Body Confidence". Ms. Hannan started PlayWisely in the ASI gymnastics center in Rockwall, Texas and in 2006 in the Czech Republic. PlayWisely now partners with premiere schools such as The da Vinci School to conduct the state-of-the-art classes. Programs are also available in Slovakia, Argentina, Mexico, and Canada. And now has begun expansion to other states and internationally.